InVideo Review – Professional Quality Video Maker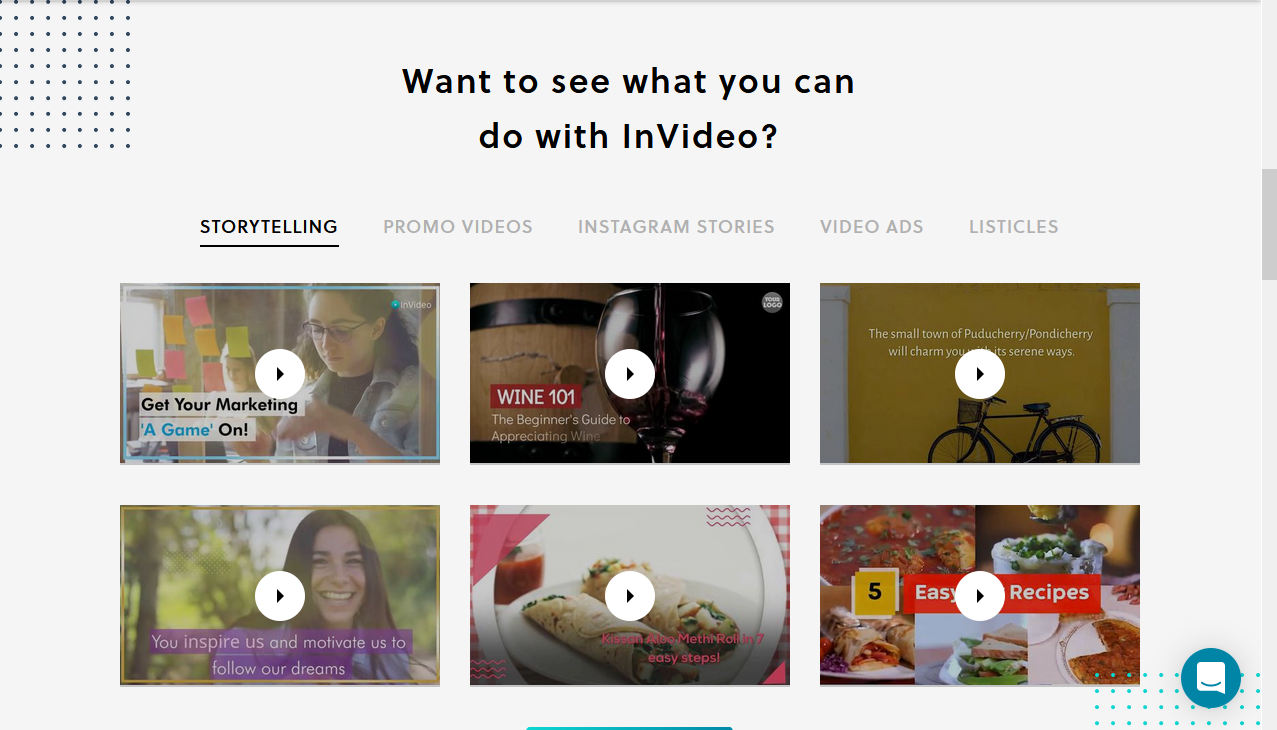 I don't write many product reviews.
I only review products I use regularly
Even then I will only review products I can recommend.
I've tried many video maker software suites over the years and quite frankly most disappoint or are so clumsy to use that I don't bother.
What I wanted was a QUICK video maker where I could put together short video ads for Facebook and YouTube and boy does this fit the bill!!
I have other excellent video software tools but it's horses for courses.
The moment I fired up InVideo and started to use it I knew this was different form the usual crap.
What Is InVideo?
InVideo, the video creator, is a video tool that allows you to make ultra professional videos very quickly.
It's very versatile and great for social videos, text to video, promo videos, product videos and video ads
How Does InVideo Work?
InVideo is, at best, based on a wide range of video templates that cover many product/service sectors.
Or alternatively you can start from scratch and build your own video.
It offers an amazing degree of control over the appearance of your videos; far in advance of many of its more expensive rivals.
If you're looking for a quick (very quick) impactful video, choose the relevant InVideo template, add your text, choose your background music, set the length, review and render.
However if you want to produce a mind blowing, attention grabbing video, all the tools are here for you to do it.
When you open up the software you're offered 3 options:
Convert your script to video – these are ideal for story telling, listicles or quick videos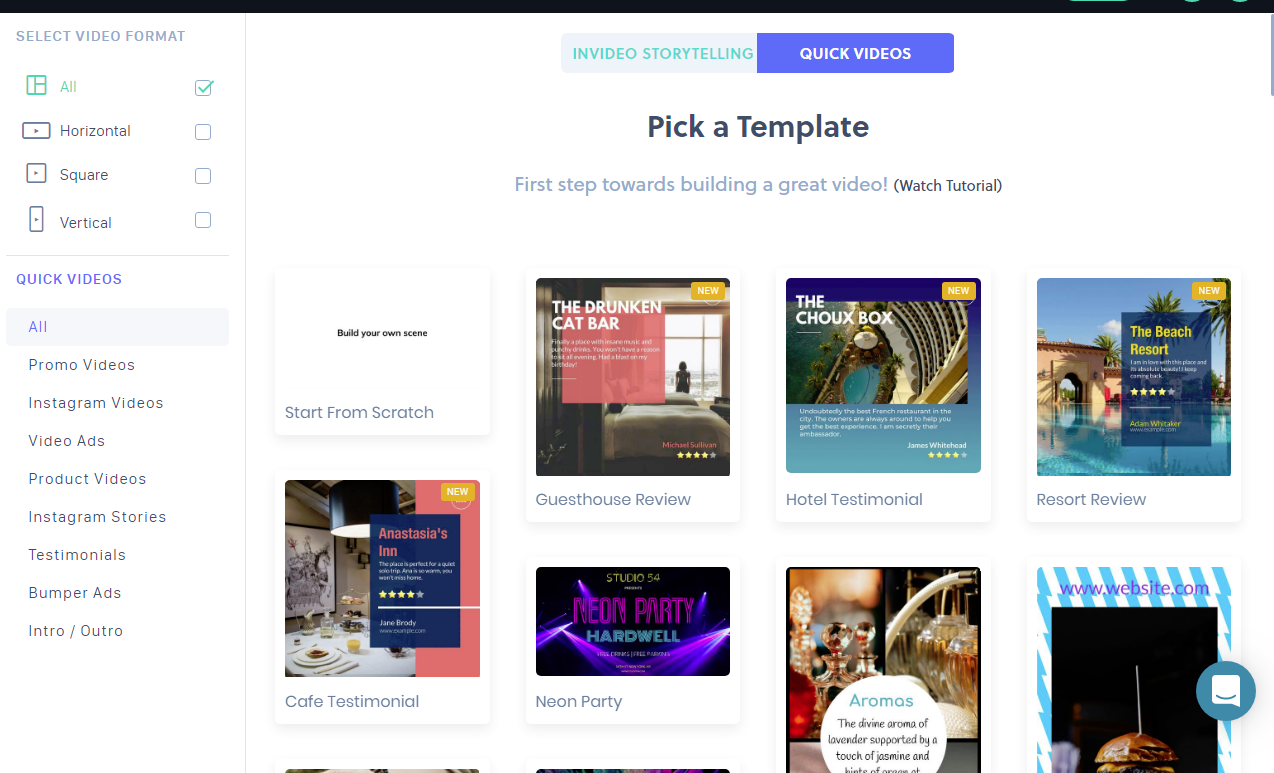 Ready Made Versatile Templates – great for promo videos, instagram, video ads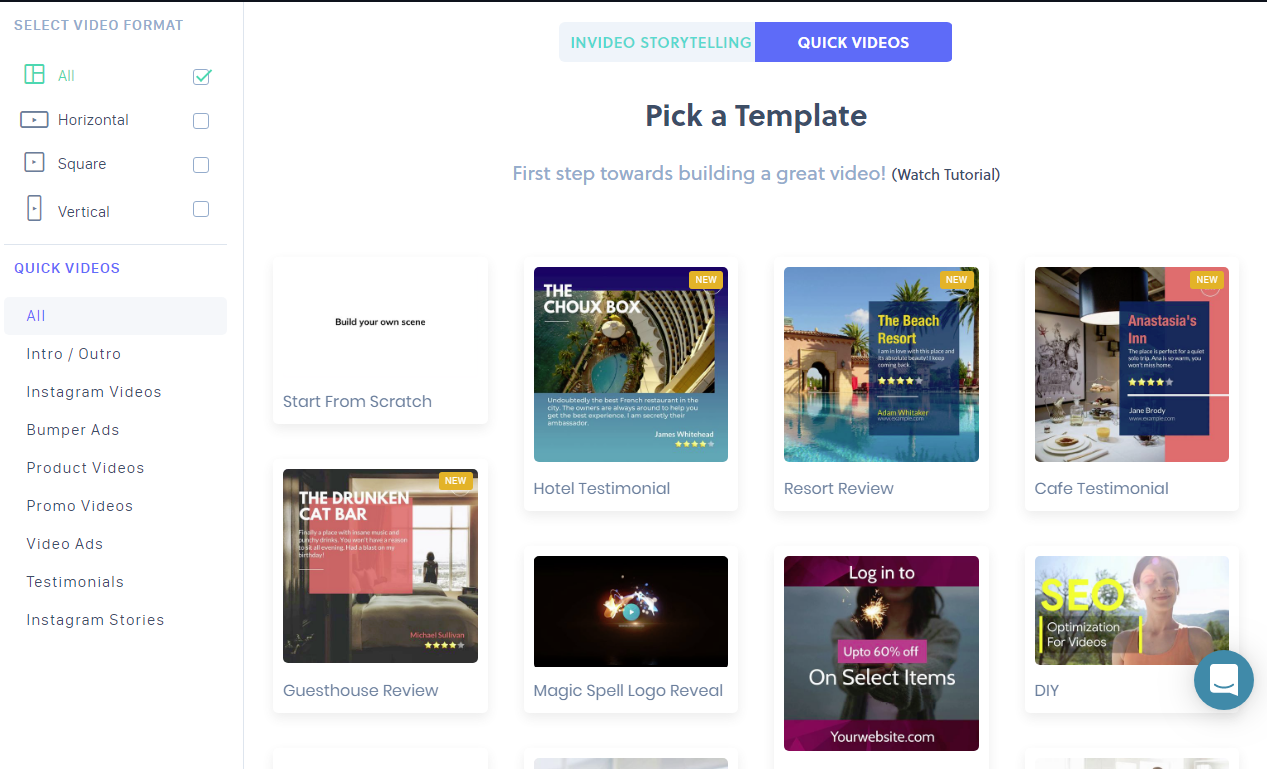 Build Your Own Video – the world's your oyster!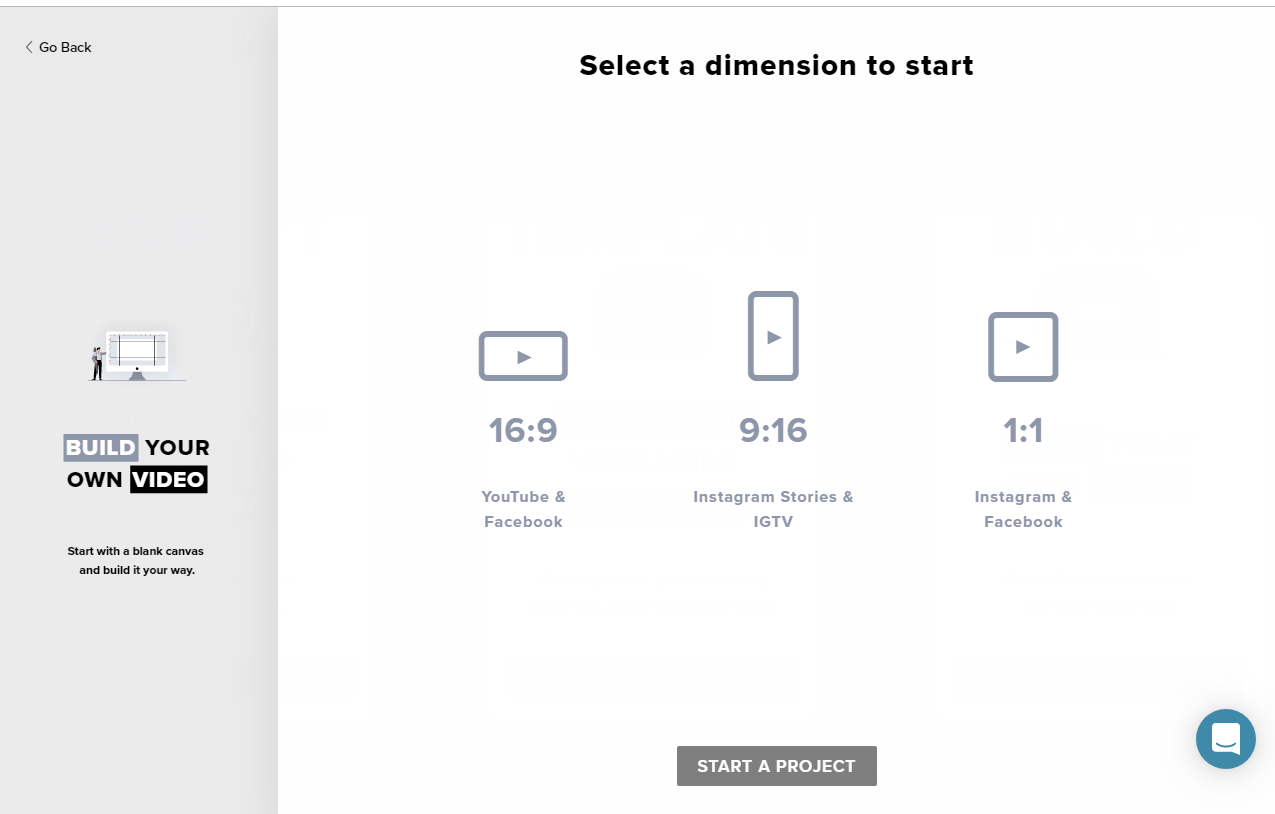 In the first 2 cases you choose a template and add or alter the text as you want
In Build Your Own you start with a blank template
1) First choose the video size and template.
2) Drop in your text and press the button.
In a few seconds all your video slides are laid out before you.
Each slide can be edited for :
The background images or videos – if you don't like, change it. It's so easy
3) Text font, size, line height and colour
4) Choose to animate or not your text boxes
5) Enhance the slide with:
6) Stickers & Icons
7) Collage layouts
8) Overlays
9) Shapes
10) Add music from a wide choice of tracks
11) Edit the length of your slide
Watch the video below where I create a simple short video using InVideo
Once you've completed completed your video, review, and the Invideo magic does it for you.
Additional InVideo Features
If you're already impressed by this software, other features include:
Over 100 templates and increasing
Over 1 million images and videos
Automated text to speech
Multilingual
Add team members
Transitions between scenes
Connect and share to social media accounts
Why Would You Buy InVideo
If you want to build top quality videos for story telling, social posting, promos, video ads wasting as little time as possible then InVideo is for you.
Who Uses InVideo?
1) Internet Marketers
If you're involved in Internet Marketing, InVideo is something you've got to add to your toolbox.
For years I resisted investing in good video software. I tried all the cheapskate offers that come up with monotonous regularity.
Most were unbelievably buggy, some never really worked and if they did, it wasn't for long
One thing I've learned is that there are certain things you can't skimp on. One of these is your video software.
However you don't have to break the bank with a $2000+ per annum type service.
InVideo offers a range of packages to suit all pockets. Try the free option to get a feel for how easy it is to use.
After that you can scale up from as little as $20 a month
AND you DON'T have to be a techy geek to operate it.
2) Running A Small Business?
For those running small businesses InVideo allows you to present your offers and products with a level of professionalism that's quite outstanding. It's an amazing video ads maker.
You can tinker with it as much as you want or if you want to exactly match your customers' needs
3) Anybody who wants to use video in their business but thinks it will be too "complicated". This one is for you.
Development
New features are being added and updated all the time. The people behind this product seem to be thoroughly committed to its success.
Below is a copy of the development roadmap.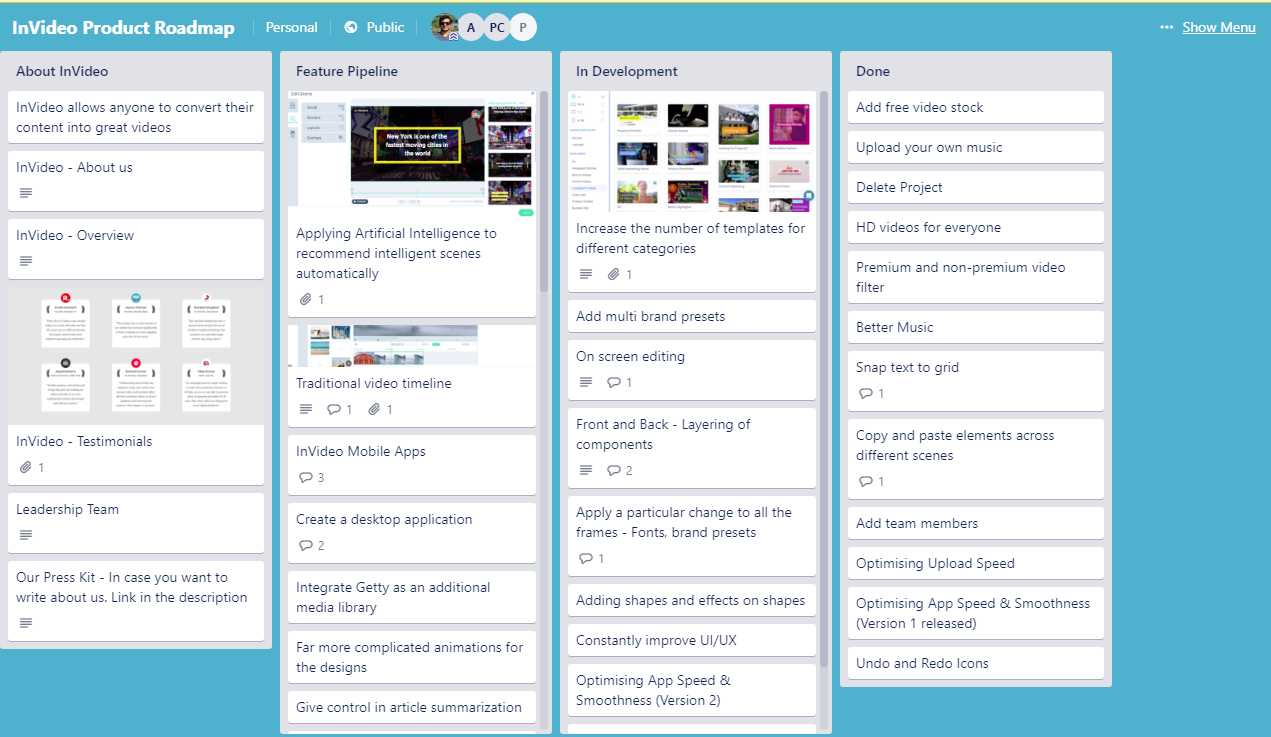 What Do InVideo Users Say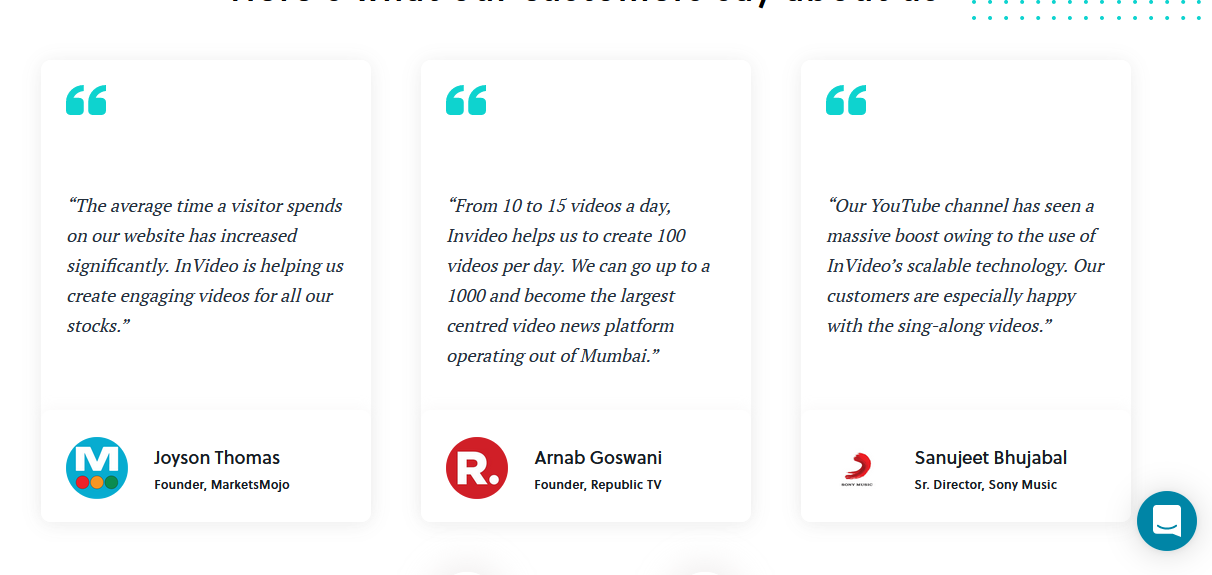 InVideo Review Summary
Video is taking over the internet.
That's a fact.
Either get on the bus now or your business will be left behind.
InVideo is currently at a stunningly low price for what you get.
Pros
Super quick top quality videos
Over 1 million images and videos
Over 100 (and increasing all the time) templates
InVideo's amazing functionality giving you endless variety for your videos
Great value for money
Cons
The only criticism I have is it lacks synchronised speech to text and that I'm told is second on the list. If this function is important to you try Vidnami alternative to InVideo
It's not often a new product comes along that really knocks my socks off, but the people behind InVideo have done just that.
I hope you my InVideo Review has been of benefit. If you'd like more detail please click My InVideo Review for a much more detailed examination.
But, don't take my word for it, try InVideo todayset up a FREE account