It can seem so difficult when you start to compare Video Creating software.
Try Googling it and you will find a bewildering list of possibilities.
How do you choose what is the right one for you and your business?
In these situations I try to take a step back and not allow myself to be overwhelmed by the choices.
At this stage you're either taking your first steps into video creation or are considering a change of software.
If you are changing over programs it can be a bit of a hassle, but many systems have much in common so it's something you can, no doubt, handle.
First, trust your own judgment.
You know your business and its requirements better than anyone else.
Contrast and compare the features and benefits of the systems that best meet your needs.
Review the pricing of each and make the decision that's best for you.
Moving along, let's have a look at the two systems in question, see what they offer and how the prices compare.
What Is A Video Creator Program?
For the purposes of this article I am concentrating on fully featured and functioned video creators. These the type where all you need to provide is the text/voiceover for the video.
You will find many video creator softwares where you will need to use your own videos or images in order to create your finished video. These range in price are mostly video editors with added sceen capture facility.
Now you  may find that you need both types of programs for your business. Indeed, I use both types for different purposes.
However here we are considering the pros and cons of two of the best fully featured video creators.
With this type of creator you can make video ads, listicles (top five****) or story telling types where you take one of your blog posts and turn it into a video.
While there are a host of products which achieve this, the two main factors usually quoted are ease of use and time taken to create.
I know of many programs which are very easy to use but take forever to create the video. Like most of us I don't have the time to spend a couple of days knocking up a simple video.
Similarly there are softwares that are exceptionally quick once you've spent some hours watching the instruction videos and cursing your many mistakes.
The aim here is to find the best compromise and at the same time offer you the facility to create a high quality unique video.
InVideo (IV) vs Vidnami (VN)
Both of these programs work on a similar basis of creating "scenes" or slides which segue one into the other to make the video. To these scenes you can add text and/or voiceover as you wish. Both offer a wide range of templates to choose from. Usually the templates are sorted by trade type or style.
These are best suited for video makers who wasn't to create video ads or explainer videos.
Comparing The Features
Below are the basics of the two different programs. I created two videos, using the same text in each. One was done using CS and the other using IV.
Vidnami (VN) is ideal for beginners and experienced video makers, especially for listicle and converting blog posts to video.
Unlimited video length

Unlimited downloads

First you choose from a range of templates

These templates are grouped by Social Media, Video From Article Or Blog Post, Sales Video, Video For Online Course or Property Listing Video.

While there is a variation, the main difference between the templates is in many cases just text placement and colour. There are quite a few trade specific types but the descriptions can be quite obscure i.e. Sea Mist relates to headphones.

Thereafter you enter your text and press the button. VN then takes your text and finds images and videos related to the words in your text and creates a video for you.

Click the Scenes button and you can review your video slide by slide and make changes /alterations as suits you. There is limited scope to change the appearance/text of the scene.

Add music, text to autovoice, record your own voice or upload a voice track.

VN will then auto synchronise your voice track in time with the slides

At this stage you can also alter the pitch of your voice track to speed it up or slow it down without the tone altering. So you don't sound like the chipmunks if you speed it up!

Review and create your video
Video created using Vidnami
InVideo (IV) is in many ways similar to VN but has some significant differences.
Video length either 5 or 15 minutes max

Downloads limited between 5 – 60 per month.

You are presented with three choices: 1) Convert an article to video, 2) Explore premade templates, 3) Start from Scratch.
From 1) you have a choice of  Stories –about 30 themes or Listicle – 8 prenumbered list themes.
From 2) you can choose from 11 categories (over 100 templates) of pre made video templates covering huge range of topics
From 3) you start with a blank template.
In Stories, add your text and IV will sort it as one sentence per slide and select the option to allow auto selection of suitable videos/images. IV will then create a series of scenes for you.

You work on each scene individually making changes and adding your voiceover or using auto text to voice.

Within each scene you have almost limitless control over the appearance. You can change the images/videos if the suggested ones are not to your liking.
You can choose from a wide variety of text boxes with backgrounds, surrounds, lattices and so on. These can then be automated to fade/bounce/etc and come in and go out at the time of your choosing
You can choose from a wide range of overlays/stickers & icons/shapes and masks
You can change text colour/size/background as you please. The variations open to you are limitless.
Once you're happy with all your scenes you click "Preview and Export". If you like the preview, simply click Export and your video is rendered.
Video created using InVideo
How Do The Prices Compare – InVideo vs Vidnami?
Below are the current pricing charts for both programs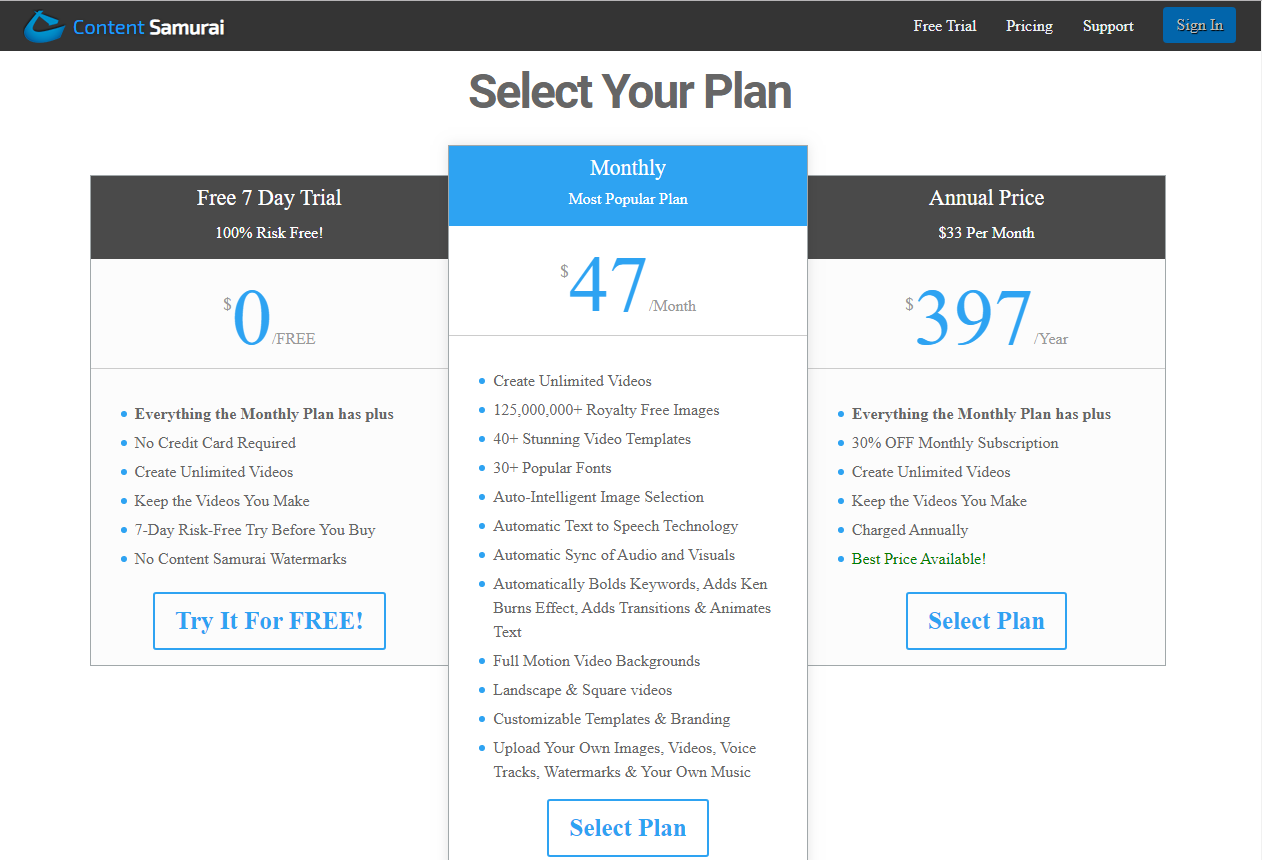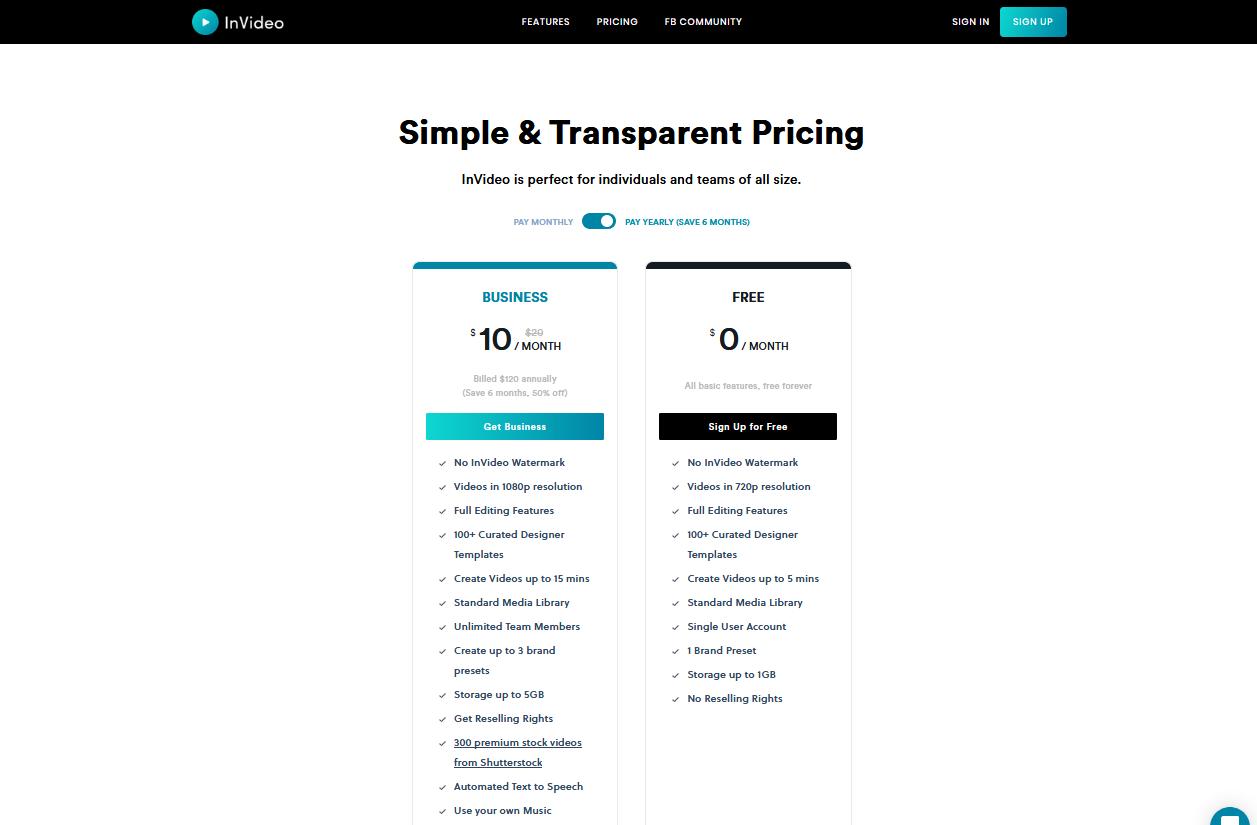 With InVideo you have a totally free option with most of the paid version features.
The limitations are 5 downloads per month, maximum 5 minutes length and one user.
The paid version at $120 per year offers 30 downloads per month, 15 minutes maximum length and unlimited users.
Content Samurai in comparison offer a free 7 day trial and then an annual payment of $397 or $47 per month.
Summary – InVideo vs Vidnami
As with many comparisons it's often horses for courses and this is no exception.
For long explainer type videos Vidnami is a good choice. All you have to do is input your text, sort out the images and videos, upload your voiceover and you're ready to go with say a 20 minute plus video. You can improve the presentation to some extent by careful selection of theme and images/videos but at the end of the day it's always going to look like a VN video.
However you can easily insert screen recorded videos into the VN video to illustrate your text.
InVideo on the other hand affords much greater flexibility in the appearance of your video allowing a more unique finished item.
The lack of synchronised voice to text over the whole video is a bit of a drawback if you're making longer videos – the voice over has to added separately for each scene. Also the lack of pitch control on the voiceover is a minus.
However, for me, all this is far outweighed by the amazing visual flexibility offered by InVideo. Text boxes can be placed anywhere in the scene with animation.
VN offers a few design options with no animation:
Opaque full screen image with text centred
Full Screen image with text top or bottom
Half screen image with text in opposite half of screen.
InVideo – great for video ads, eye catching videos, intros, outros and shorter (under 15 minute) videos.
But if you make long (20 minutes plus) videos with a lot of text and a big voiceover file Vidnami may be quicker to churn out regular videos.
If you can only afford one of them, I would go for InVideo due to its versatility.
You can always make longer videos by stitching together a couple of short videos using a video editor.
So when it comes down to InVideo vs Vidnami, for me (but maybe not for you) InVideo would be my first choice.