How To Use The Instagram Facebook Creator Studio?
Instagram Facebook Creator Studio
What is the Instagram Facebook Creator Studio?
If like me, you've been using a variety of heath-robinson methods to post to Instagram from your PC, you really ought to read this.
I have been constantly looking for easier ways to post on Instagram. If I'm honest, I stumbled across Facebook Creator Studio. This allows you to post direct to Instagram from a PC (you must have an Instagram business account) and also to Facebook!
I get the impression that Facebook / Instagram is trying to move business users over to this software rather than posting from business pages.
Regardless Facebook Creator Studio is a great improvement on the traditional posting method.
It will give many of the (costly) specialist software posting platforms a good run for their money.
At first glance the dashboard reminds me of YouTube. This is because you can access creating and editing tools, your posts and an analytics reporter.
There are two options at the top centre of the page Facebook or Instagram. Click on which service you wish to use.
Instagram.
The Facebook Creator Studio dashboard menu on the left hand side shows all the available functions.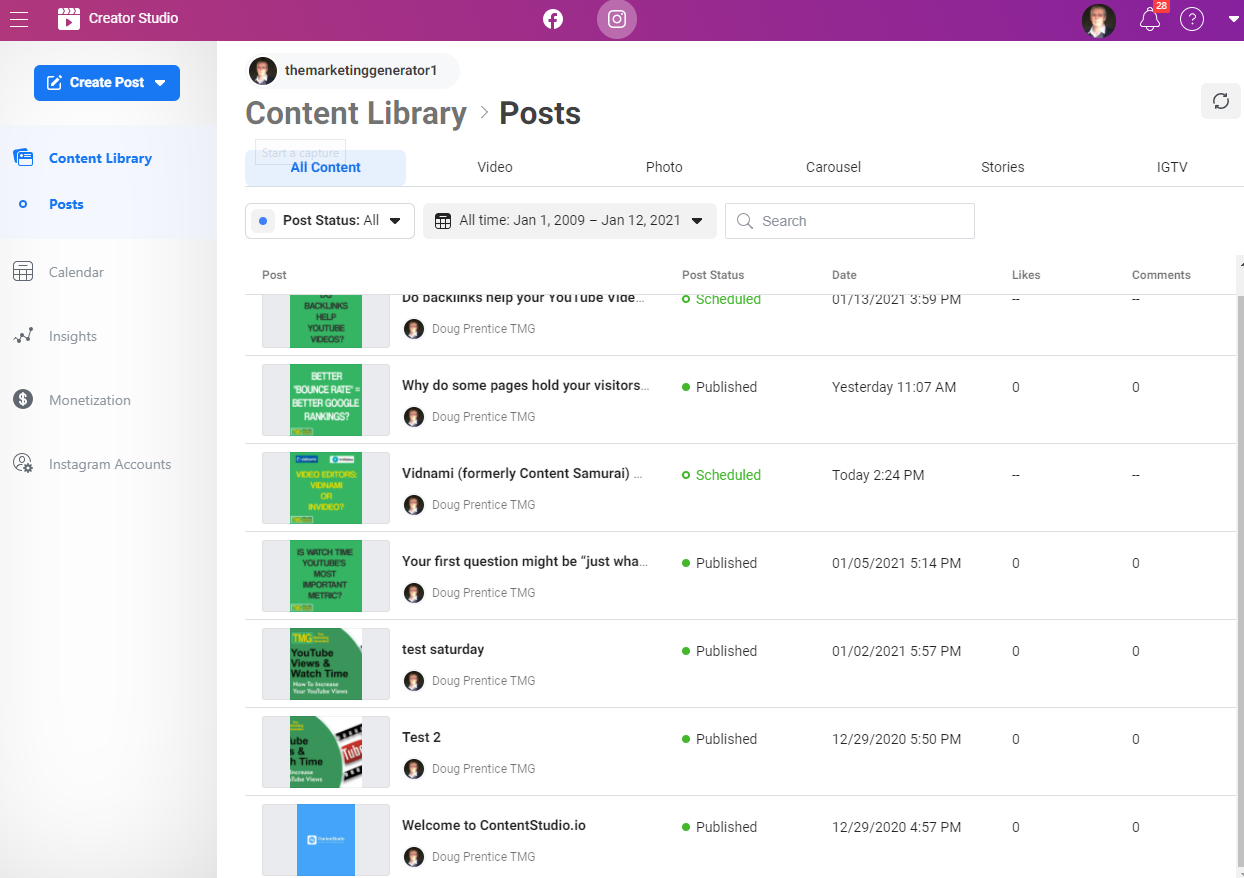 You can post or schedule posts to either your feed or to IGTV.
This is where all you published and scheduled posts and their likes and comments are stored.
Click the post button and you can create, schedule and post content and all your Instagram posts from one screen.  AND also from your PC. There's no requirement to use a mobile or tablet!
·Calendar: this can called up in either weekly or monthly form to show past and scheduled posts

·Insights. Here you can find Activity, Interactions (actions taken on you posts, website visits, profile visits, calls, texts, emails etc)

·Audience gives you a total number and breakdown by age, gender, age and gender. Plus it tells you when your audience is on Instagram

·Monetization

·Instagram Accounts
Altogether a fairly comprehensive dashboard tool.
I started out on this to find something that would let me post to Instagram from my PC.
Facebook
But it's on Facebook where the Creator Studio really takes off.
This has all the Facebook info you could want, all in one place and easy to access.
There is absolutely no way I'll be viewing my facebook stats in the normal browser again.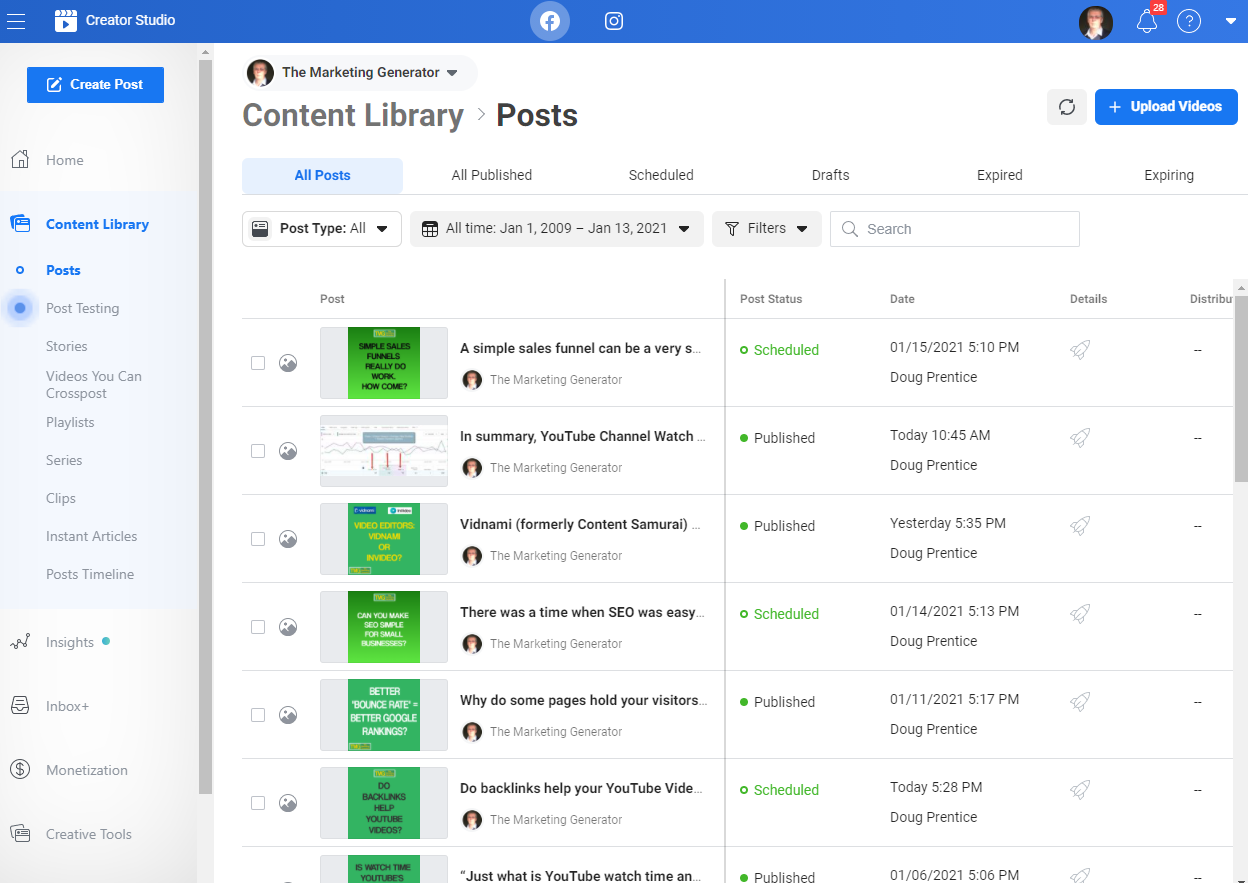 All you past and scheduled posts are so easy to view and monitor in Creator Studio. To create a new post just click on the button in the top left corner. Ten you can create a post as normal and then post, save as draft or schedule.
The Insights menu I find much easier to manipulate.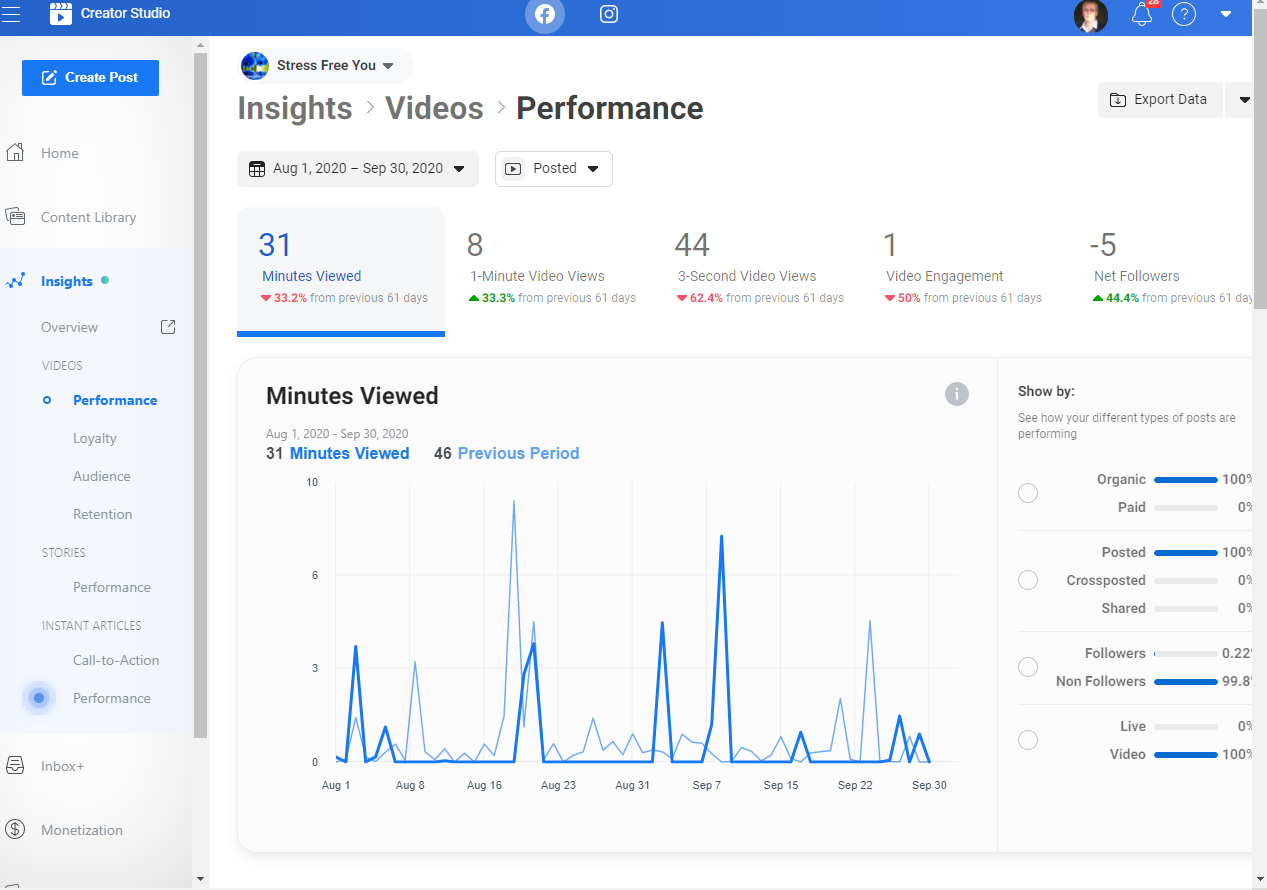 You can then select from either
Overview takes you to the standard page review you'll be familiar with.
Videos are reported by Performance, Loyalty, Audience and Retention.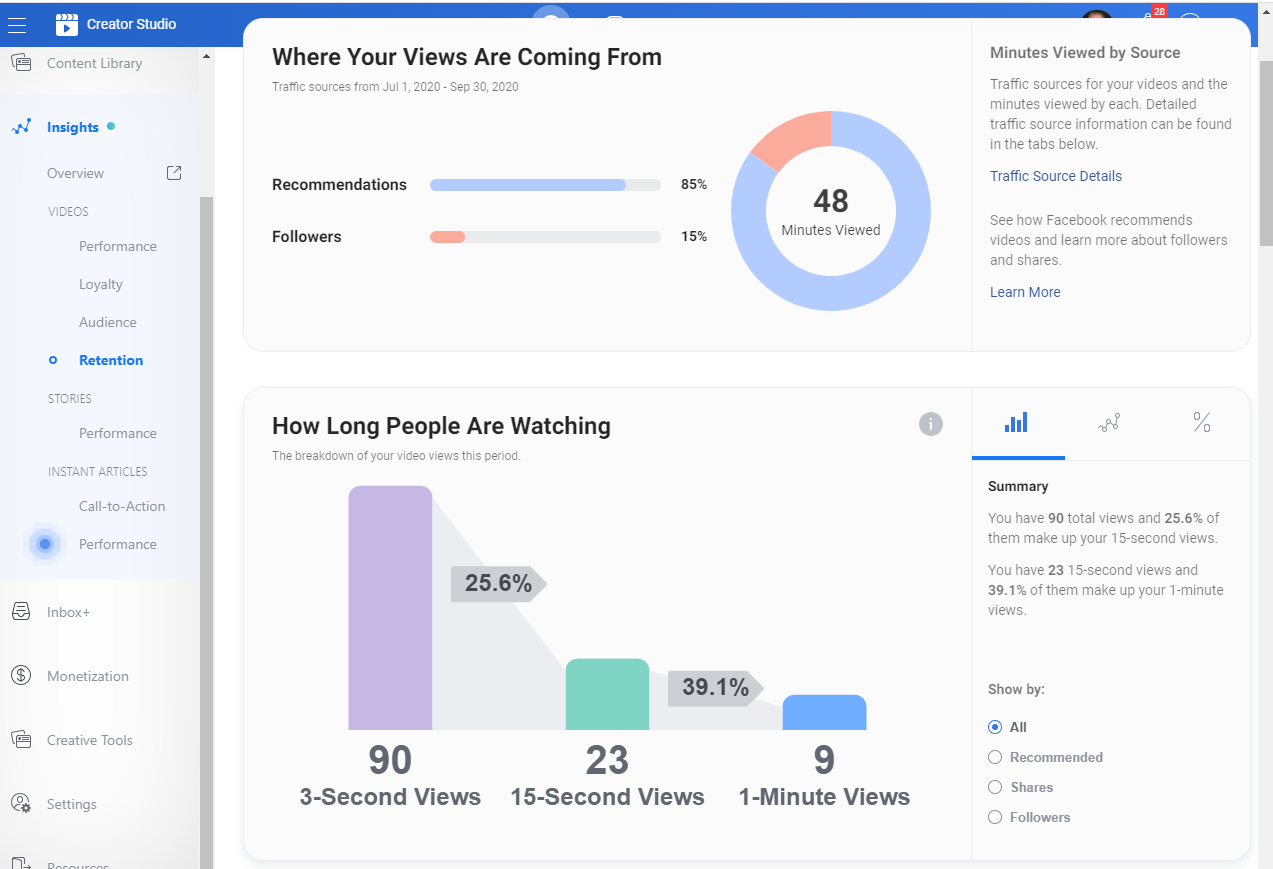 Then there are reports for both Stories and Instant Articles.
Then there are the usual Inbox, Monetization, Creative Tools, Settings and Resources tabs.
I've only been playing around with this for a few days now but highly recommend that you spend some time on it.
In summary, I sorry I missed this when it was launched. It's great time saver and fabulous information resource.