What Is Ahrefs Webmaster Tools?
What is Ahrefs Webmasters Tools?
It's a free set of tools from Ahrefs that allows site owners to monitor the SEO performance of their sites.
Additionally it highlights negative issues on websites.  These can be hindering performance and reducing the amount of organic traffic you could be getting.
Why Is This Such A Big Deal?
Previously if you wanted to access Ahrefs tools you had to pay a minimum  of $99 per month. This is OK if your making big bucks but for many of us lesser mortals it was a big ask.
What Do You Get With Ahrefs Webmaster Tools?
When you sign up you can choose to either add your sites manually or allow Ahrefs to access your Google Search Console account.
Now there are those who maintain that this allows Ahrefs access to all your site info that that they will sell on to your major competitors. That's one you'll have to decide for yourself but I reckon I'll gain more than I'll lose.
  The first thing the tool will audit the SEO of your site.

 You can set up  weekly audits and have all your backlinks

 Have all your external links
Once that's done you'll receive a report for each of your sites.
Each report is in two parts clearly marked in the Dashboard:
a)     Site Audit

b)    Site Explorer
Site Audit 

Site Audit is the section that gives you the info you need to improve your sites SEO performance. You can scan up to 5000 pages per month and you'll get a report on about 100 predefined parameters. You can easily all the factors that are affecting the performance of your site in the search engines.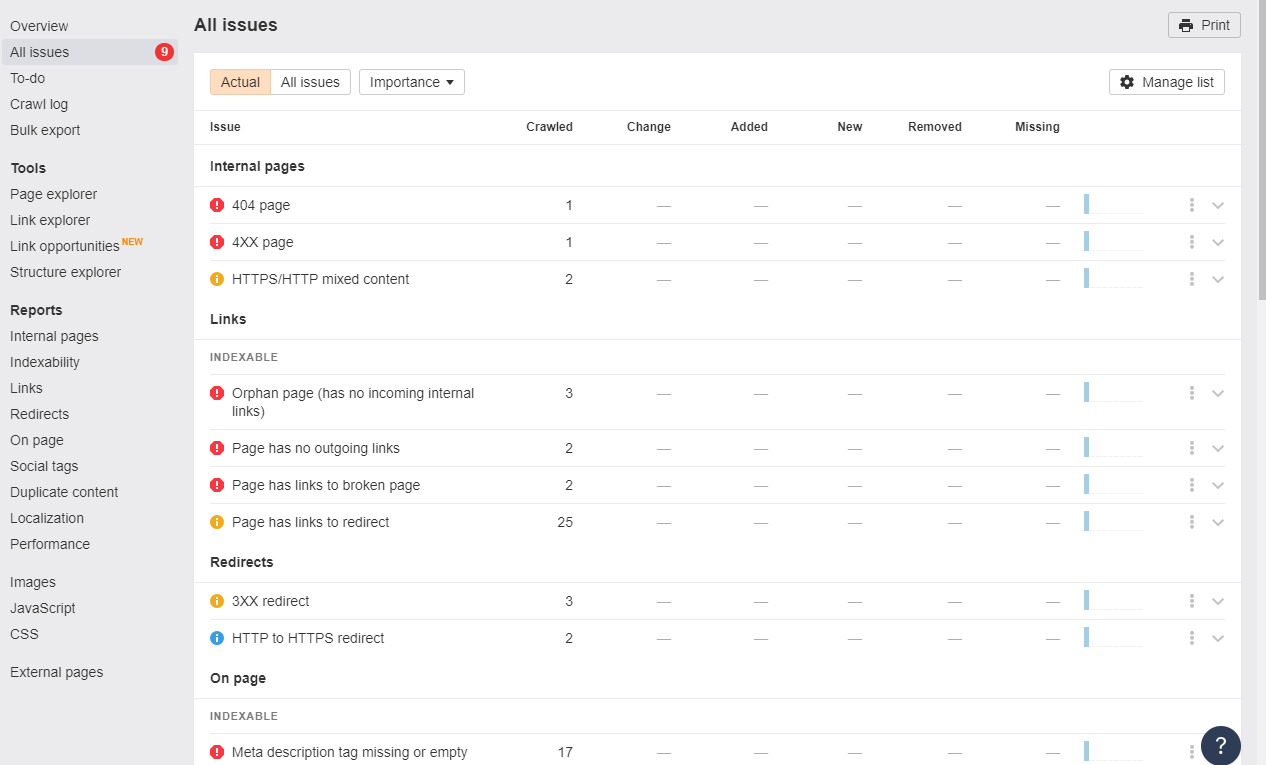 On the overview report you get a health check rating for your site and a breakdown of all the issues.
Not only do you get these, but you're also shown how to correct the issues and see which urls are affected.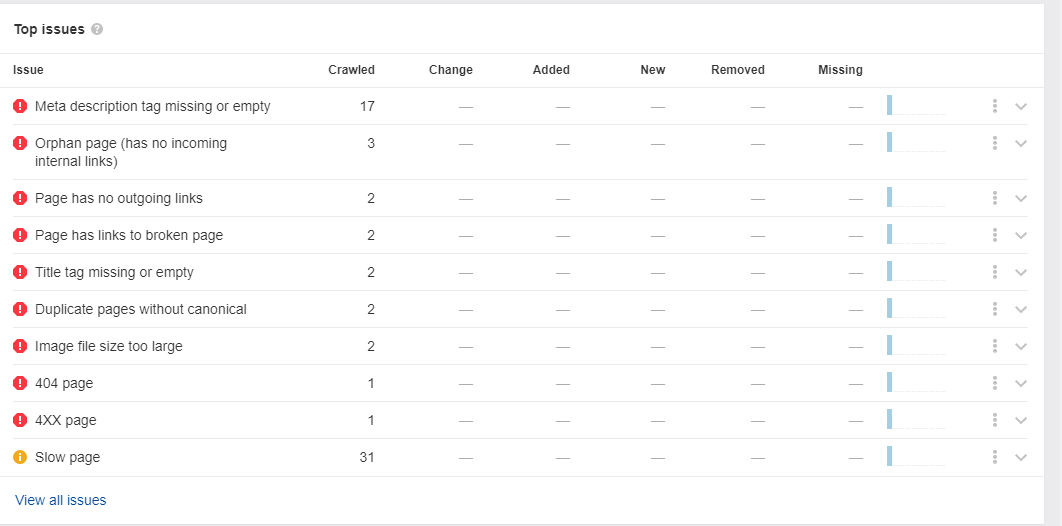 You can then drill down as deep as you want. There's a boundless wealth of info to help resolve any problems.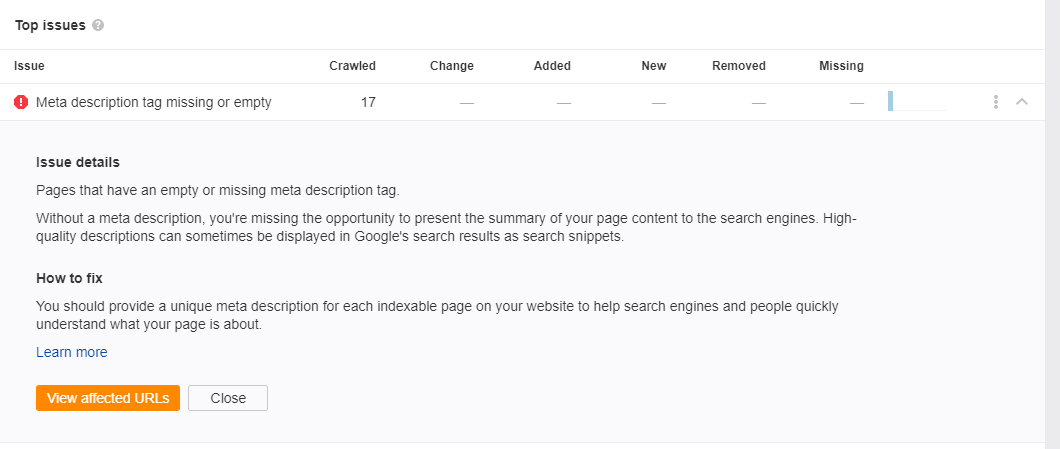 It's very easy to be overwhelmed by all this. To make it manageable Ahrefs Webmaster Tools have put a list of categories down the side of the report.  These allow you to deal with any issues in an orderly fashion. As an example, should page issues be of interest you, click on that and you'll get info on word counts, improved descriptions title tags and so on.
If you want to deal with the most important stuff first, click on the Issues tab. You'll now have laid out in front of you a list in order of importance.
The benefit of having a weekly audit on your sites is that you'll be able to monitor urls.   That includes urls with new issues as well as  the urls where you have already resolved the issues. This starts from the second crawl onwards.
Site Explorer
Site Explorer is the other part of Ahrefs Webmaster Tools.  This is all about your site ratings, backlinks and search traffic.
The main page shows the general strength of your site: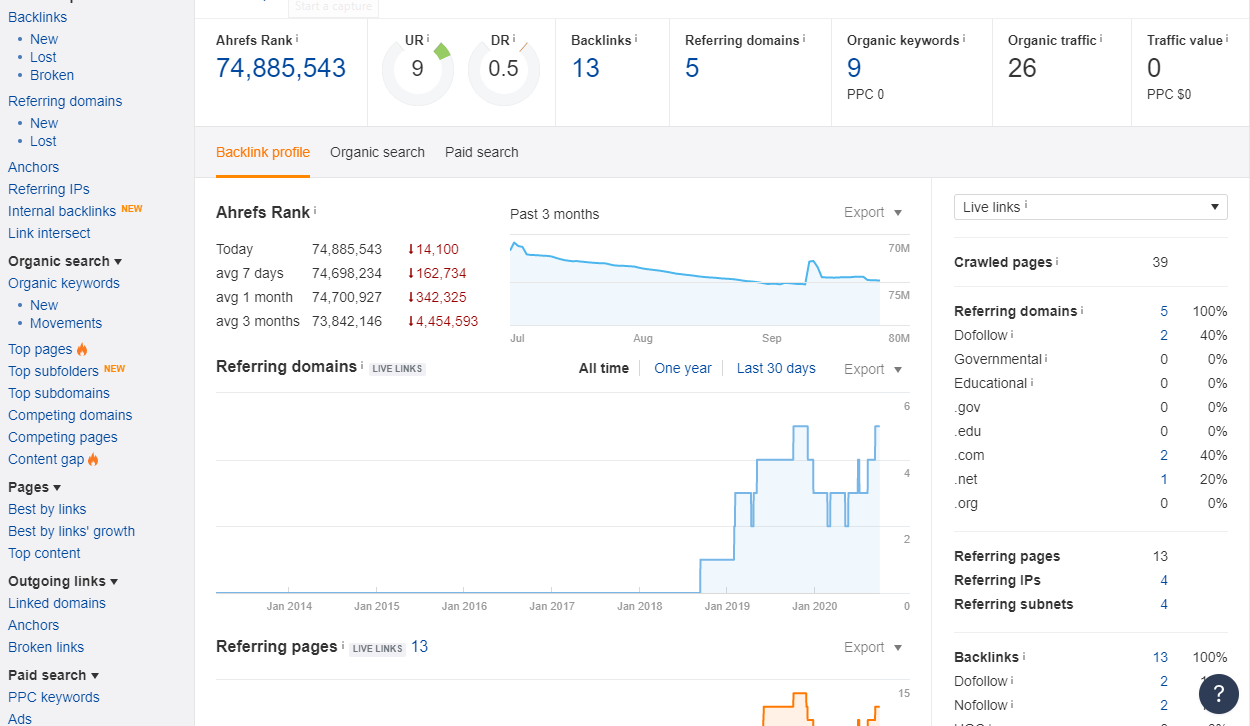 Ahrefs ratting
Domain Rating
Backlinks
Referring Domains
Organic Keywords
Organic Traffic
This can seem a bit overwhelming but all the categories are listed on the menu on the page left hand side.

My main areas of interest are Top Pages and Organic Keywords. There I find which keywords my site ranks for, keyword difficulty scores, search volumes on so on.
It's very easy to find the info you need and then go deeper if you want.
For a free tool Ahrefs Webmaster Tools is a real winner. Used in conjunction with the Google Search Console, there's a host of actionable data for everyone. And all for free.
If you think you can use this, just click https://ahrefs.com/webmaster-tools and sign up.
Plus there are tons of tutorials on the Ahrefs site on how to get the best out of the tool.